Bard Theatre's 2014 Season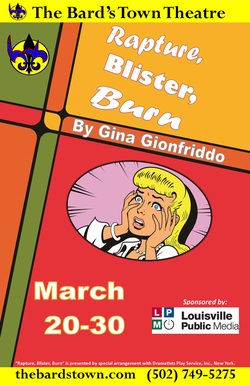 Rapture, Blister, Burn
by Gina Gionfriddo
2013 Pulitzer Finalist



March 20-23, 27-30 (all at 7:30 PM)




After grad school, Catherine pursued a career as a celebrity feminist academic, while Gwen built a home with her husband and children. Decades later, each friend covets the life the other has. With searing insight and trademark wit, this new comedy takes a deep look at family, career, romance, and the decisions that define a life, and three generations of women share their raucous and refreshing approaches to navigating work, love and family.
Hailed as a "genius" by
Variety
, playwright Gina Gionfriddo's latest comedy tackles feminism's foibles in what
The New York Times
called an, "intensely smart and immensely funny," new play.
Playwright Gina Gionfriddo's writing credits include
Law & Order
and the new Netflix series
House of Cards
.
"I got to know Gina's work through our mutual friend Ray Rizzo and the Motherlodge Festival," explains Executive Artistic Director Doug Schutte. "From the first time I read her work, I knew Gina was a special playwright, and I also knew I'd someday have a theatre. This was inevitable."
Recommended for ages 16 and up.

---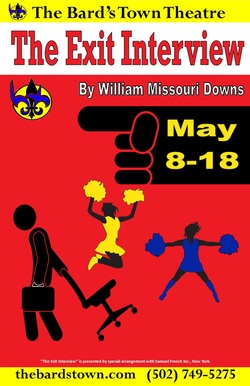 The Exit Interview
by William Missouri Downs
National New Play Network Rolling World Premiere



May 8-11, 15-18 (all at 7:30 PM)





GET TICKETS HERE!




Bertolt Brecht scholar Dick Fig has been terminated by his university and is having an excruciating exit interview with Eunice – a decidedly droll administrator. Downs' witty play ricochets through Brechtian interludes, a pair of politically-radicalized cheerleaders, a pompous newsman, communiques from God, and debates on religion, science and politics before reaching its surprising conclusion.
A 2012 "Rolling World Premiere" play via the National New Play Network, "The Exit Interview" has received rave reviews.
"A rip-roaring send-up of Americanized Brechtian angst that had the audience howling." -
Stage Magazine
"The laughs keep coming — even as audience members might think with a twinge, 'Ouch, that might be me.' Some will no doubt be offended by one non-politically correct moment or another. But with luck, all will be forced to think." -
Orlando Sentinel
"Bard Theatre has been in pretty regular contact with the National New Play Network, and we found this wonderful play via our connection with them," says Schutte. "I love it so much on the page, and can't wait to see it on the stage."
Recommended for ages 18 and up.

---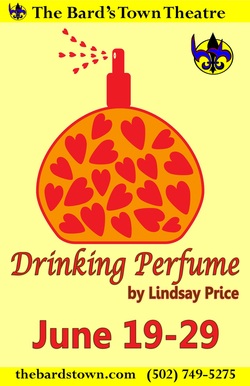 Drinking Perfume
by Lindsay Price
Bard Award Winner



June 19-22, 26-29 (all at 7:30 PM)




Finalist for the 2013 Reva Shiner Comedy Award (won that year by William Missouri Downs, author of our May play), "Drinking Perfume" is a two-character comedy that is sure to please.
Stan appears to be a nerdy neat bald man in a bow tie. Claudie appears to be a pink-haired irresponsible hippy slob. Stan thinks Claudie has broken into his girlfriend Beth's home and trashed the place. Claudie thinks Stan is the intruder in her sister's home. Both Stan and Claudie are telling the truth. So why are they at Beth's house? Cue the doorbell, which delivers a courier envelope addressed to both STAN and CLAUDIE. The envelope contains an index card with two words on it: I KNOW. From there, secrets and stereotypes get brought to the surface in this delightful comedy.
"One of the things I love about this play," says Schutte, "is that the audience goer will have a moment very early on where she will say, 'I know where this is heading', and it's by design. The audience is in on where it's heading, and the characters are in on where it's heading, and it's quite simply a delight to see it unfold."
Lindsay Price is the resident playwright for THEATREFOLK. She writes specifically for schools and student performers, averaging 300 productions a year in schools across Canada, the US and overseas. Recently, "Chicken.Road" received Outstanding production in the Sears Drama Festival, "Tuna Fish Eulogy" was presented at US army bases in both Italy and Germany, "Beauty and the Bee" won best production at the New Brunswick District Play Festival, and "Power Play" won best Overall Production at the Saskatchewan Drama Association Region 7 Festival. She regularly teaches playwriting workshops at conferences and festivals, most recently at the International Thespian Festival, the Alabama State Thespian Festival and the Ohio Council of Teachers of English Language Arts Conference. Upcoming, she'll be presenting at the Educational Theatre Association Conference, and the Council of Drama and Dance Teachers of Ontario Conference.
Recommended for ages 16 and up.

---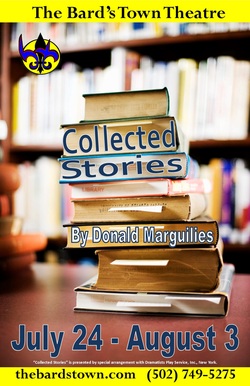 Collected Stories
by Donald Marguilies
Drama Desk Award Nominee



July 24-27, 31, August 1-3 (all at 7:30 PM)




Ruth Steiner is a teacher and respected short story writer. Her student and protégée is Lisa Morrison. Over the course of 6 years, Lisa journeys from insecure student to successful writer. After publishing a well-received collection of short stories, Lisa writes a novel based on Ruth's affair with the poet Delmore Schwartz. The women deal with the moral dilemma of whether a person's life events are suitable for another to use in their own creative process.
"The emotional current between the performers takes on a sweeping, electric life of its own. You find yourself paying less attention to the dialogue than to the finely graded code of gestures and vocal inflections with which these women chart the rise and fall of a friendship ... you may be hard pressed after the play ends to remember anything specific that Ms. Hagen's character has said. But you won't forget the blend of pride and vulnerability that infuses her every moment onstage. You'll remember the way she holds her head back to keep the tears from rolling off her face ... and, above all, the elegiac poetry, equal parts defeatedness and hope, that Ms. Hagen brings to the basic act of bolting and unbolting a door in the play's final scene." – New York Times
"This play is a bit older than many of the plays were produce, but it's recent and relevant—and it's a truly wonderful experience watching the two women interact over the years," says Schutte.
Suitable for all ages.

---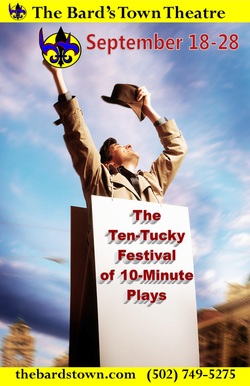 The 4th Annual Ten-Tucky Festival
8 New Ten-Minute Plays by Kentucky Playwrights




September 18-21, 25-28 (all at 7:30 PM)





When fall is upon us, we know it's time for our favorite event of the season...The Ten-Tucky Festival! We take hundreds of submissions and read our way to the seven we get the privilege to produce. It's more fun that the law should allow!



Shop at Home, by Tara Anderson
BSFFs, by Bryce Woodard
The Library, by Gary Wadley
All the Answers, by Mark Cornell
Action & Interaction, by Corey Music
The Bubble, by Taj Whitesell
Edgar, by David Clark

---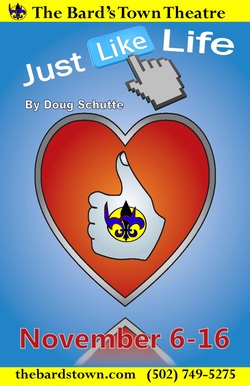 Just LIKE Life
by Doug Schutte


World Premiere





October 30 - November 16 (Specific Dates Pending) (all at 7:30 PM)




How can we connect with people when we are constantly "connected"? Can young people still find their way to love amidst the social tidal waves that envelope them? In a small upstate New York community college, we find out.
Schutte explains: "An avid reader, I often find things from the past that seem relevant now, and issues I want to explore today, and they come together in my odd little brain to make a story that I think will entertain me as I write it and the folks who come to see it. This play is no different.
Rip Van Winkle
meets
Romeo and Juliet
in a cyber-centric world. Bad things are bound to happen."
Recommended for ages 16 and up.

---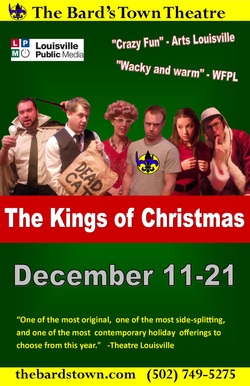 The Kings of Christmas
by Doug Schutte


The 4th Year of Holiday Goodness! (Yes, we're shocked it's been that long, too)





December 11 - 21 (Additional Dates Pending) (all at 7:30 PM)




10 years after his father (an Elvis-impersonating magician named 'The Magistic King') mysteriously disappeared, Carter King returns home vowing this will be his last Christmas with his "lunatic" family. Will the crazy band of family lunatics be able to re-ignite Carter's lost Christmas spirit?
A rip-roaring comedy that will have you chanting "You've got that boot now shoot!" for months to follow.


"It's like
A Christmas Carol
, if
A Christmas Carol
were written by an idiot." - Schutte
Recommended for ages 16 and up.
---