Bard Theatre's 2015 Season

We've had some wonderful seasons here at Bard Theatre, but this one just might top them all. Easily the strongest selection of recent plays that we've ever assembled...and we think you're going to love them. Have a look!

---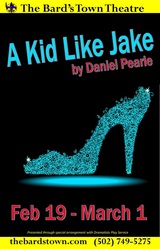 A Kid Like Jake
by Daniel Pearle
*presented by special arrangement with Dramatists Play Service



Directed by Andrew Epstein



February 19-March 1
CLICK HERE FOR TICKETS



From the original production at The Lincoln Center: "Alex and her husband, Greg, want only the best for their precocious four-year-old, Jake. When they apply to New York City private schools, part of what makes Jake special - his passion for Cinderella and dress-up - starts to cause concern. The story of a husband and wife trying to do right by their son."
---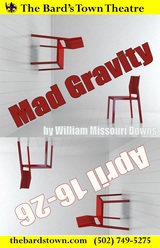 Mad Gravity
by William Missouri Downs
*presented by special arrangement with Beacon Artists Agency

Directed by Scot Atkinson

April 16-26
CLICK HERE FOR TICKETS

Winner of the Reva Shiner Comedy Award, "Mad Gravity" is the newest play from Downs (author of last season's hit, "The Exit Interview.") From Bloomington Playwrights Project (home to the Reva Shiner Award): "Archie and Eudora have built a live studio audience in their living room. Being constantly observed helps them to lead an honest and honorable life. But things get awkward when some important visitors get a massive case of stage fright. Then, when it's announced that an asteroid may be heading cataclysmically towards the Earth, all social order breaks down and the honest and honorable life takes a backseat to a frenzied, panicked mayhem. Also, in Act II, you will learn the meaning of life."




---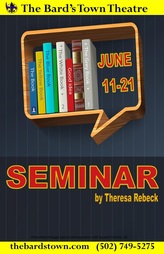 Seminar
By Theresa Rebeck
*Presented by special arrangement with Samuel French, Inc.

Directed by Brian Walker

June 11-21
CLICK HERE FOR TICKETS

Theresa Rebeck's hit Broadway play, "Seminar." The production will be directed by Brian Walker, who worked extensively with Rebeck at Tennessee Repertory two years ago. Four aspiring young novelists sign up for private writing classes with Leonard, an international literary figure. Under his recklessly brilliant and unorthodox instruction, some thrive and others flounder, alliances are made and broken, sex is used as a weapon and hearts are unmoored. The wordplay is not the only thing that turns vicious as innocence collides with experience in this biting comedy.


---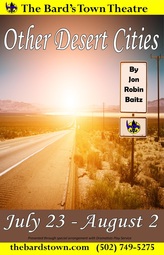 Other Desert Cities
by Jon Robin Baitz
*Presented by special arrangement with Dramatists Play Service.

Directed by Melissa Shepherd

July 23 - August 2
CLICK HERE FOR TICKETS

Brooke Wyeth returns home to Palm Springs after a six year absence to celebrate Christmas with her parents, her brother, and her aunt. Brooke announces that she is about to publish a memoir dredging up a pivotal and tragic event in the family's history - a wound they don't want reopened.


---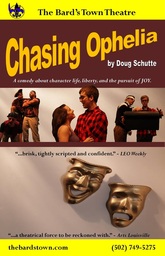 Chasing Ophelia
by Doug Schutte

Directed by Scot Atkinson

August 4, 6, and 7


(No tickets required...it's free in Central Park!)



PART OF THE 2015 KY SHAKESPEARE FESTIVAL "SHAKESPEARE IN THE PARK"!

---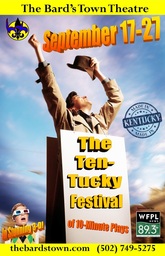 ---
Crooked
by Catherine Trieschmann
*Presented by special arrangement with Samuel French, Inc.

October 15-25
CLICK HERE FOR TICKETS

Fourteen year old Laney arrives in Oxford, Mississippi with a twisted back, a mother in crisis and a burning desire to be writer. When she befriends Maribel Purdy, a fervent believer in the power of Jesus Christ to save her from the humiliations of high school, Laney embarks on a hilarious spiritual and sexual journey that challenges her mother's secular worldview and threatens to tear their fragile relationship apart.

"The work of a big accomplished writer's voice...a gem of a discovery." - The New York Times

"Gorgeous almost beyond belief." - The London Times


---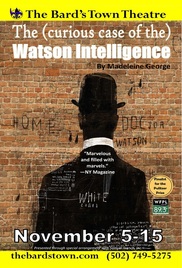 The (curious case of the) Watson Intelligence
by Madeleine George
*Presented by special arrangement with Samuel French, Inc.

FINALIST FOR THE PULITZER PRIZE IN DRAMA

Directed by Doug Schutte

November 5-15
CLICK HERE FOR TICKETS

Watson: trusty sidekick to Sherlock Holmes; loyal engineer who built Bell's first telephone; unstoppable super-computer that became reigning Jeopardy! champ; amiable techno-dweeb who, in the present day, is just looking for love. These four constant companions become one in this brilliantly witty, time-jumping, loving tribute (and cautionary tale) dedicated to the people—and machines—upon which we all depend.

"This is the best play I've come across since Sam Hunter's 'A Bright New Boise.' And that's saying something," says Executive Artistic Director Doug Schutte. "I'm beyond excited to get to bring this play to life here in Louisville."


---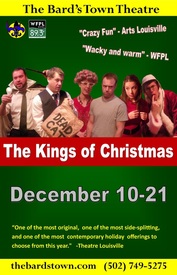 The Kings of Christmas
by Doug Schutte
Directed by Doug Schutte and Scot Atkinson

December 10-21
CLICK HERE FOR TICKETS

Closing out the season is the 5th year of the Bard's smash hit, "The Kings of Christmas," by Doug Schutte. As Schutte says himself, "It's like 'A Christmas Carol'…if Dickens were an idiot." December 10-22.

As Marty Rosen of the LEO says, "The madcap opening moments of 'Kings' are flat-out brilliant – and the rest of the play lives up to the opening. This is among the best-written, best-executed riffs on Dickens' 'A Christmas Carol' you'll ever see. In fact, a word to the wise: stop reading for a moment and immediately order your tickets."


---