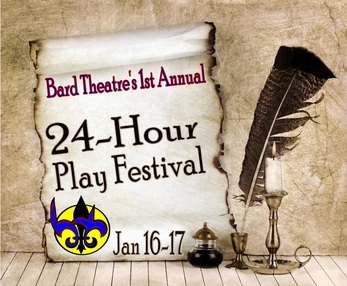 Bard Theatre's 1st Annual 24-Hour Play Festival!

On your mark, get set...GO.

The Details:

Interested artists can reserve for one of three spots: Playwright, Director, Actor. We plan to cap the groups at 8 playwrights, 8 directors, and 16-24 actors.

On Friday, January 16 at 6 PM, we will announce the following:
(1) The 8 playwrights, with their randomly-drawn directors and actors.
(2) The title that will be used for all 8 plays.
(3) The line of dialogue that must be used in each of the plays.
(4) The prop that must be incorporated into each of the plays.

Playwrights will have the evening to craft their plays (6-10 minutes in length). Beginning at 9 AM the following morning, rehearsals may begin. At 7:30 PM, we perform! Questions? Email doug@thebardstown.com. Ready to sign up? Do so below.


---