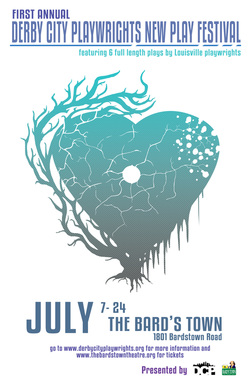 1st Annual Derby City Playwrights New Play Festival
6 New Full-Length Plays in Rep over 3 weeks!
July 7-24
Advanced Tickets $18
At the door: $20


Tickets available via the buttons above (individual show tickets also available on individual show pages)



Recommended for ages 17+


Please note: our theatre in on the 2nd floor, and currently has stair-only access.



Brand new full-length plays by
Brian Walker, David Clark, Rachel White, Ben Unwin, Taj Whitesell, Eli Keel &Tyler Curth...
@con
by Ben Unwin
The Bus Stop at Sycamore and Vine
by Eli Keel and Tyler Curth
High Tide
by Brian Walker
Schrodinger's Girl
by David Clark
Exposure
by Taj Whitesell
The Brownstone
by Rachel White
Detailed Schedule:Thursday,

July 7
7:30 PM:
@con
Fri, July 8
7:30 PM:
The Bus Stop at Sycamore and Vine
Sat. July 9
7:00 PM:
The Brownstone
9:30 PM:
Schrodinger's Girl
Sun, July 10
5:30 PM:
Exposure
8:00 PM:
High Tide
Thu, July 14
7:30 PM:
Schrodinger's Girl
Fri, July 15
7:30 PM:
@con
Sat, July 16
7:00 PM:

Exposure

9:30 PM:
High Tide
Sun, July 17
5:30 PM:
The Bus Stop at Sycamore and Vine
8:00 PM:
The Brownstone
Thu, July 21
7:30 PM:
Exposure
Fri, July 22
7:30 PM:
High Tide
Sat, July 23
7:00 PM:
The Bus Stop at Sycamore and Vine
9:30 PM:
The Brownstone
Sun, July 24 (Closing Night!)
5:30 PM:
@con
8:00 PM:
Schrodinger's Girl
---