AUDITIONS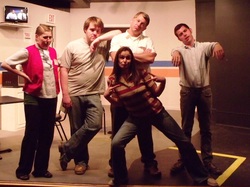 Bard Theatre is always looking for actors who exude professionalism and joy, and thus help contribute to the positive atmosphere we try to ensure every season, every production, every day. We love to find new artists who share our vision about what it means to create theatre (and the importance of our commitment to providing a platform for new voices). Because our season plays are often quite diverse, and because we often employ non-traditional casting whenever we can, we tend to need actors of all types.

Our seasons run the course of the calendar year, with our first season production typically in late February, and our "The Kings of Christmas" closing out our season each December. Each year, we attempt to hold a general season audition, and then hold auditions for individual shows as needed.

Worried about rehearsal scheduling? Our Artistic Director insists that Bard Theatre's rehearsal schedules work around artists' schedules, and not not vice versa. Excluding our 10-minute festival, each production pays a stipend to cast and crew typically ranging from $75-150, and more for seasonal hits like THE KINGS OF CHRISTMAS.

Miss our annual auditions? The Bard's Town Theatre holds "rolling auditions," as needed, by appointment only. Interested in scheduling an audition to perform with The Bard's Town Theatre? Please send a note of introduction, resume, and head shot electronically to Executive Artistic Director Doug Schutte at doug@thebardstowntheatre.org.
---